Getting You Home Safer and Sooner
We're delivering for the local community to ensure you get home safer and sooner to your family.
Check out some of the recent transport projects being built in our patch!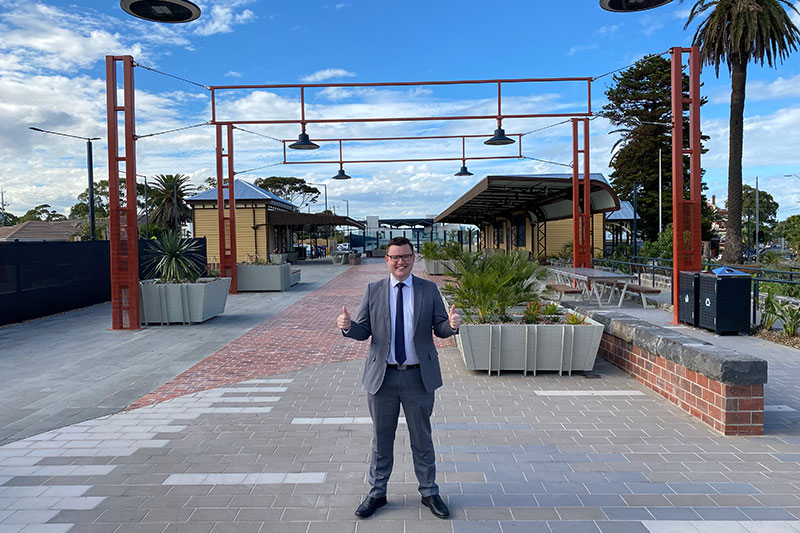 Mentone and Cheltenham Level Crossing Removals
We've removed the dangerous level crossings in Cheltenham and Mentone and built new Train Stations. We've kept the heritage-listed Mentone station as part of the design. These projects are now complete!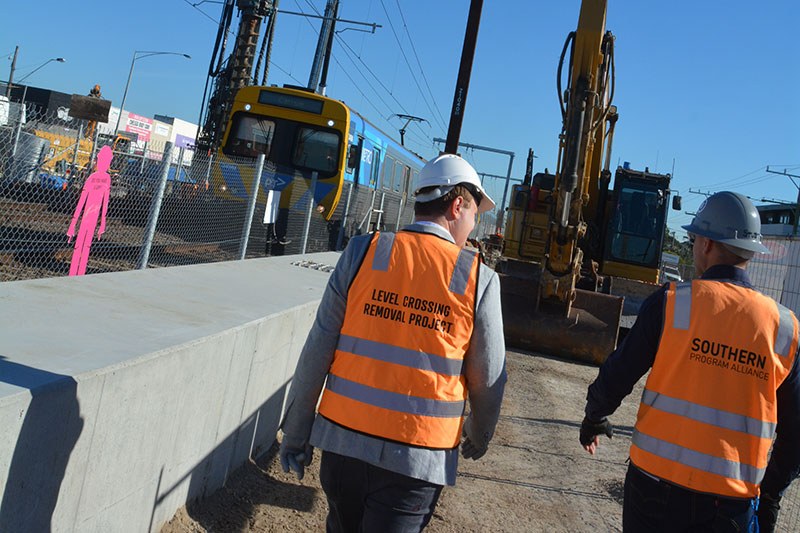 Edithvale, Chelsea and Bonbeach Level Crossing Removals
We're removing all level crossings between Edithvale and Bonbeach and building new Edithvale, Chelsea and Bonbeach Stations. Works are well underway, and the crossings are to be gone by late 2021!
Mordialloc Freeway
We're delivering the Mordialloc Freeway to improve travel time and ease congestion on our local roads. With entry and exit ramps at Thames Promenade, a new intersection at Wells Road/Thames Promenade and a new shared walking and cycling path along the Freeway - this project is going to make our journeys home quicker and safer. Works are underway and will be complete by late 2021!
Melbourne Metro Rail Tunnel
The Metro Tunnel will free up space in the City Loop to run more trains to and from the suburbs, by taking our busiest train lines through a new tunnel under the city.
That means more trains, more often across Victoria, with a less crowded and more reliable train network.
Works to build the massive 9km twin rail tunnels and five new underground stations is underway.
The Metro Tunnel will create room for 36,000 more passengers every week on the Frankston Line during peak periods. That's 15 per cent more peak capacity.
If Frankston Line passengers interchange at Caulfield Station, they will be able to access citybound Metro Tunnel express services to the new Anzac Station and beyond, saving up to 15 minutes on a journey to Parkville or St Kilda Road. Alternatively, they can interchange at Melbourne Central station or Flinders Street Station.
For more information, visit: https://metrotunnel.vic.gov.au/about-the-project/benefits-for-your-train-line
Suburban Rail Loop
Suburban Rail Loop is a city shaping project that will transform Victoria's public transport system, revitalise Melbourne's middle suburbs and create a long pipeline of jobs.
The 90-kilometre Suburban Rail Loop will link every major rail line from the Frankston line to the Werribee line, via the airport, better connecting Victorians to jobs, retail, education, health services and each other.
Three transport super hubs at Clayton, Broadmeadows and Sunshine will connect regional services to Suburban Rail Loop, so passengers outside Melbourne won't have to travel through the CBD to get to employment, world-class hospitals and universities in the suburbs. 
Stage One from Cheltenham to Box Hill will be delivered first, slashing public transport travel times for people in Melbourne's south east and travellers on the Gippsland line.
A journey from Cheltenham to Box Hill will be just 22 minutes, with trains taking 3–4 minutes between stations
Commuters hopping on at the start of the line near Southland will save between 40–60 minutes when travelling to either Monash, Glen Waverley or Burwood by train – and up to two hours on a return journey.
For more information, visit: https://suburbanrailloop.vic.gov.au/About/Project-Benefits
Airport Rail Loop
Melbourne Airport Rail will take passengers from the airport to where they need to go – be that work, home or one of Victoria's key tourism destinations – via a rail service for the first time.
Airport trains will run through the Metro Tunnel, providing passengers with a 10-minute turn-up-and go service from Melbourne Airport and a less than 30-minute journey into the CBD.
Melbourne Airport Rail will connect seamlessly into the existing regional and metropolitan network.
Planning and development work is underway, with construction due to start in 2022.